Description
Fresh CSGO Prime Account
After Purchasing the Account (Fresh Prime)
Your Details will be sent to your e-mail instantly after the order is completed.
You will get the following details in your Email:
 - Steam username 
 - Steam password
 - A temporary e-mail id linked with your steam account
You will get a steam account as follows:-
 - Counter Strike - Global Offensive
 - Hours- random
 - Rank 21
 - Fresh CSGO Prime Account
 - May have Random Wins
 - Private Rank- 1
 - STEAM LEVEL - 1/0 (Can be either Limited OR Unrestricted)
 - STEAM GUARD IS OFF FOR FASTER DELIVERY
Fresh CSGO Prime Account
Counter-Strike: Global Offensive is a First-Person shooter game developed and published by Valve. The game became free to play when the Danger Zone update dropped in December 2018. Since then the game is free to play and you can download the game on Steam. If you are here, we guess you know what CSGO is and all the basic stuff. So you might be wondering what a Fresh CSGO Prime Account is. Fresh CSGO Prime Accounts are your go-to accounts. They are the best type of accounts for people who just want to hop straight into competitive game mode.
Fresh CSGO Prime Account
Fresh accounts in CSGO as the best type of accounts, They are ready to use anytime. When you get CSGO from Steam, Your CSGO account will be considered as a non-prime account and your trust factor will be super low. Having low trust factors will lead to getting matched with cheaters and spoils your game experience.
Also when you download CSGO for the first time, The game doesn't let you play competitive or get valuable items, to put it short, Some access is restricted when you start playing CSGO in a new account. That is not the case with fresh accounts as fresh accounts are ready to use. All you have to do is to log into the account and get full access to the game. Fresh accounts are safely boosted up to a level where you get all the access to the game. In addition, Fresh accounts also contain valuable stuff which is also a major advantage.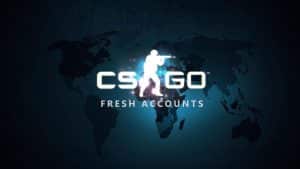 Advantages of Fresh Accounts
Fresh accounts are ready to use accounts

Fresh accounts contain any desired valuables of the buyer.

Fresh accounts are 100% safe.

Fresh accounts' trust factors are high and the accounts are maintained perfectly.

Be it prime account or non-prime account, you can get all types of fresh accounts
Fresh accounts are basically accounts that are unplaced in competitive but it contains all types of valuables and customized levels. The main idea of fresh accounts is to reduce the grind and providing quality accounts to customers.
Buy Fresh CSGO Prime Account
Buying fresh accounts instead of getting the game from steam is advised because fresh accounts are quality accounts and it reduces the grind time. Of course, if you get the game from Steam it is free but trust us, It is definitely worth investing your money on fresh accounts. It will definitely take you about 150-200 hours of grind to upgrade your CSGO account to prime. Prime matchmaking is the best-in-class matchmaking system CSGO has, it has relatively lower cheaters compared to non-prime. Buying a fresh account saves about 150 hours of your grind to prime. You can just grab a fresh prime account at CSGOSmurfNinja
Why us?
We at CSGOSmurfNinja provide high-quality accounts. We have a wide range of accounts that satisfy almost all of our customers. Our prices are reasonable and we provide a lifetime warranty to every product that is bought. We also have a 24/7 customer support to assist you. Our lightning-fast delivery makes you go "wow that's fast" as soon as all the formalities are done, your product will be delivered within minutes so you can hop right into the action. Our User Interface is easy to use, so You'll have no trouble purchasing from us. We are glad to be a part of your Counter-Strike Journey! You can also visit our csgo prime account page to buy other ranked prime accounts